Cloud Computing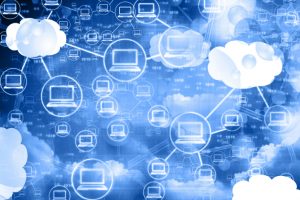 Cloud computing has really emerged now, so what makes it different from other technological developments?
The 4 main areas of Cloud are SaaS (Software as a Service), IaaS (Infrastructure as a Service), Middleware/PaaS (Platform as a Service) and DaaS (Data Warehousing as a Service) to host and store the Data. What's behind the explosion in cloud is a change in the way that companies are buying their computing. Computing as a Service has become a reality, where you pay for only the computing that you need and where resources are instantly scalable. Hosting and Cloud Services as a whole are being driven by many forces such as social media, Enterprise Globalisation and mass demands for faster Broadband, Wi-Fi's, more secure data, ETL and business intelligence at a click of an icon.
In addition, now that Communications functionality is being delivered across private, public and hybrid clouds, we have Communications as a Service (CaaS). As traditional on-premise Communications hardware platforms are replaced by software, hosted and managed services models, it has become a data centre responsibility, so the world is no longer divided between IT and Telecoms; today, it's all about ICT.
The Cloud market is growing rapidly from $500m in 2009 (excluding SaaS) to a forecast of over $4B by 2013. In the current market many Global leaders of Private and Public Enterprises are sitting up and taking notice and are starting to migrate their business applications to an internal or externally hosted Cloud.
Hi Calibre is proud to be part of the Cloud and have been recruiting experts to enable this transition for key players for the past ten plus years in SaaS and IaaS across Cloud Strategists to Business Development Teams covering:
Consulting on Cloud and Partner Management
Sales and Business Development
Marketing Strategy and Delivery of Lead Generation and Sales Alignment
Project Management, Technical Implementation and Migration
Hosting Support and IT Infrastructure Architecture
Support and Training roll out Programmes for UK and Globally
Technologies to support the Cloud and the Experts we offer include knowledge and experience in:
Data Centre Hosting and Unified Communications
Server Hosting and Scalability. IaaS, PaaS
Website Hosting for massive internet traffic
Archiving, ETL, Data warehousing, DaaS
Security Management Solutions
Social Media Applications, Twitter, Facebook, Blogs etc
On-demand Computing for business critical applications
On-demand Software, SaaS Business Applications
Data Migration and Hosting
Network Management, Performance and Monitoring
Business Intelligence and Performance Management
Unified messaging and communication, ICT
Mobile Commerce, Hosting and Support, BSS, OSS for Social Media
E-Commerce and E-Tail Mass marketing
Customer profiling and Insight for Retail
Cloud Accounting
CRM, ERP and ITSM
G Cloud for Government Organisations
P Cloud for Private Cloud for Global Enterprise
IoT, Internet of Things & Security Systems etc.